Report of District Level Orientation & Awareness workshop on Homoeopathy for Mother & Child at Akola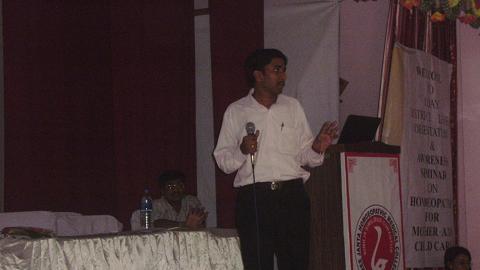 Deputy Director of Homoeopathy Government of Maharashtra with technical support from Central Council for Research in Homoeopathy has organized one day District level Orientation & Awareness Workshop on 14th March 2010 Sunday Homoeopathy for Mother & Child at Shri Janta Homoeopathic Medical College, Akola, Maharashtra..
This program was inaugurated by HON. M.L.A SHREE HARIDASJI BHADRE.
Chief guest was Dr. Kavishwar Principle of Panchsheel Homoeopathic Medical College, Khamgaon, .
GUESTS OF HONOUR were HONORABLE MLA Shri Sharma & Respected Personalities of Akola & Dr Khandare Principle Akola Homoeopathic Medical College.
Deputy Director of Homoeopathy Dr G.P. Titar has given introduction to seminar, Homoeopathy, scope of Homoeopathy in Mother & Child.
INTRODUCTION OF PARTICIPANTS given by BY DR. KISHOR MALOKAR & DR. NALINI CHOUMAL.
In Scientific session DR. JANKIRAM TALELE MBBS, DCP (PATHOLOGIST) from Jalgaon presented CASES OF TUBERCULOSIS, ACUTE NECROTISING ENTERITIS, PROLONGED NEO-NATAL HYPERBILIRUBINEMIA , FALCIPARUM MALARIA , PLASMODIUM MALARIA , ACUTE ON CHRONIC RENAL FAILURE WITH HYPERTENSIVE ENCEPHALOPATHY.
Then Dr Pawan S Chandak from Parbhani given his presentation & lecture on 'Homoeopathy for Opportunistic Infection in HIV + children & Molluscum'. In his lecture he has presented cases of Giant Molluscum Contagiosum in HIV + Child through evidence based records like before & after treatment photos of patient, CD4 Count, Viral load etc. Also presented various opportunistic infection & its statistical results through graph, Charts like Herpes Zoaster, Wasting Syndrome, Scabies, Recurrent respiratory infection, CD4 count improvement chart & some examples of cases with before & after treatment bar diagrams, Decrease in Viral Load examples of cases.
DR.TAPAS KUNDU BHMS, P.G.D.P.C, M.S. (counseling & psychotherapy) from Nashik presented Cases of Haemophilia.
Then DR. K. N. CHOUHAN from Pune given his lecture on 'ANTE-NATAL COMPLAINS , BRONCHIAL ASTHMA, BRONCHO-PNEUMONIA, EPILEPSY, BEHAVIOURAL DISORDER, NEPHROTIC SYNDROME' through Video cases & powerpoint presentation.
DR. RAMGOPAL TAPADIA MD (HOM) from Amravati presented CASES OF JAUNDICE, ATOPIC DERMATITIS, DIFFERENT ALLERGIES & MAPRESENTATIONS DURING PREGNANCY.
Dr Sunil Parse from Nagpur presented cases on 'Atopic Dermatitis cured by Homoeopathy'.
Dr Abhay Chheda from Mumbai presented 'CASES OF EXTENSIVE ECZEMA WITH ASTHMA, CASE OF PATENT DUCTUS ARTERIOSUS, CASE OF NEPHROTIC SYNDROME, CASE OF LACHRYMAL GLAND TUMOR'.
At the last before Concluding session DR.G.P.TITAR & DR.SADAF ULDE presented Video & PowerPoint on BREAST CRAWL, BREAST FEEDING METHOD, PROBLEMS OF LACTATION, ANC,INTRANATAL CARE,PNC CASES.
This program was attended by AYUSH Doctors, Homeopaths of Akola & near by districts, BHMS students & Internee.
Also Target groups like Tahsildar, Practitioners under NRHM – Homoeopathic, Ayurvedic, Unani, Allopathic, Siddha ; Other Practitioners in Govt. Sector in District – Civil Surgeon, Chief Medical Officer, Hon. Physician, Obstetricians, Pediatricians etc; Other Practitioners in Pvt. Sector in The District ; Representative from Media – Newspapers, TV, Radio ; Medical & Paramedical Staff –Pathologist , Nurses, Sonologist, etc has attended this workshop.