My Experience with Phosphorous in Case of Skin Disease
by
Dr. Pawan S. Chandak
A female girl aged 19/f having whitish spot over forearm since 2 years. She has taken many allopathic medicines & Treatment from Skin Specialist with temporary relief. As She take medicine whitish discolored spot disappear. As soon as medicine stopped it again reappear.
Present Complaints:
Whitish discolored spot over forearm, near elbow of both side. There is no itching.
Palms & Soles are always warm i.e. Heat of palms & Soles.
Feverish feeling.
Past History:
Same complaints since 2 years.
H/O Recurrent epistaxis.
There is no history of major or critical illness.
Family History:
Mother: NAD
Father: Allergic Rhinitis
Brother: NAD
Menstrual History:
Menarche at the age of 13 years.
Menses are Regular sometime early. Menses are bright red in colour.
Painful dysmenorrhoea. Aching in extremities, low back pain, pain in abdomen during menses.
Physical Generals:
Appetite: She eat normally with good appetite.
Thirst: Excessive thirst for ice cold water.
Desire: Ice cream, Cold things, Cold drinks, Spicy food
Aversion: Not Specific food
Perspiration: Normal.
Sleep: Normal. Starts at slight noise.
Thermal Relationship: Chilly Patient
Mental History:
Sensitive to noise.
Aversion to be alone.
Desire company.
Becomes sensitive to emotions of others.
Evaluation of The Case:
- Desire Company
- Sensitive to noise
- General - Thirst for Cold water
- Heat of palm & soles.
- Menses - Bright red Blood
- Menses - Early.
- Menses - Painful - Dysmenorrhoea.
- Recurrent Epistaxis.
Rubrics Covered by Medicine Phosphorous are:
- NOSE - EPISTAXIS
- STOMACH - THIRST - unquenchable
- FEMALE GENITALIA/SEX - MENSES - bright red
- EXTREMITIES - HEAT - Hand - palm
- EXTREMITIES - HEAT - Foot - sole
- MIND - COMPANY - desire for
- MIND - COMPANY - desire for - alone agg.; when
- MIND - SENSITIVE - noise, to - slightest noise; to the

First Prescription:
24/09/2007
Rx
Phosphorous 30 single dose
Follow up:
12/10/2007
No Change
Rx
Placebo
27/10/2007
whitish spot decreasing.
Rx
Phosphorous 200
single dose
13/11/2007
Improvement
Rx
Placebo.
27/11/2007
On the basis of Dysmenorrhoea with abdominal pain, aching in extrimities, feverish feeling, hot palms & Soles.
Rx
Phosphorous 1 M
Single dose
05/12/2007
As She is having past history of epistaxis, she complaining of bleeding from nose < night, sleep during since 3 days.
Rx
Pulsatilla 200
3 doses early morning was given.
22/12/2007
No Epistaxis. Whitish spot disappeared completely. Improvement in general weakness & feeling fresh.
Rx
Placebo continued.
Before Treatment: 24/09/2007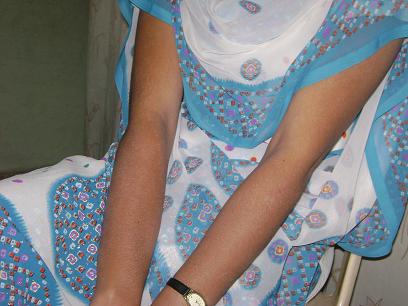 During Treatment: 27/10/2007
During Treatment: 08/12/2007
After Treatment: 22/12/2007